Types Of Archery We Offer
TARGET ARCHERY
Target archery is the most recognised and popular form of archery in the world. Shot on an outdoor course at distances up to 90m. It is used at the Olympic and Paralympic Games. All types of bows can be used – Recurve, Compound, and Traditional.
INDOOR ARCHERY
Indoor archery is a variation of target archery. Shot mostly during the winter at short distances generally 18 meters. With a slim margin of error, for many archers it's not just about beating the competition; it's about shooting perfect scores. Also suitable for all types of bow.
FIELD ARCHERY
Field archers shoot at animal or circular target faces. Targets are set at different distances, heights and angles around a course of a natural terrain. Used to improve the techniques and fitness required for bowhunting in a realistic wilderness setting. Archers sometimes refer to the additional skills required to deal with challenging terrain, lighting and weather conditions as "field-craft". All types of bow can be used – Recurve, Compound, and Traditional.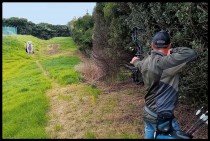 Saturday: Practise 10:00am - Target Range and Field Range
Sunday: Club Shoot 1:00pm - 3:30pm - Summer Target Range, Winter, Indoor Range
Monday: Club Shoot 6:30pm - 8:30pm - Summer Target Range, Winter Indoor Range
Learn To Shoot Beginner Courses
The Club runs beginner courses on Wednesday evenings throughout the year. These classes consist of four lessons. They are intended to introduce the beginner to the safe and correct use of target archery equipment and teach you correct technique. We also explain the purpose of all the equipment. You should wear a reasonably close fitting top and enclosed shoes.
All archery equipment is provided, and courses are run by the club's Archery New Zealand Qualified coaches.
Courses are by arrangement. Contact via e-mail for available dates.
Wednesday: 5:00pm - 7:30pm Juniors (10 to 17yrs)
Wednesday: 7:30pm - 8:30pm Adults (18 and over)
Membership year runs 1 Oct to 30 Sep.
If joining in the first quarter Oct, Nov ,Dec the full amount of $185
2nd Quarter: Jan, Feb, Mar $148
3rd Quarter: Apr, May, Jun $110
4th Quarter: July, Aug, Sep Full amount $185 but this includes the following year.